In the market for a stainless steel dishwasher, but can't spend more than $700.00? You're not the only one on a budget. Luckily for us, there are now many choices available on the market that not only looks good with its stainless steel exterior, but also has many great features. If you're like me, I was overwhelmed with all the different dishwashers out there, wondering to myself if the higher priced ones work much better than the lower priced ones. However, don't fret because there are some outstanding machines, offering many features, nowadays and you don't have to break the bank to own one. Take a look below as we have compiled a list of dishwashers based on customer reviews that are worthy of consideration with your price range.

Kenmore 12413 Built In Stainless Steel Dishwasher
If you are looking for a dishwasher that provides great cleaning results and at the same time use the least amount of resources for unique loads, then this Kenmore unit is the one to check out. It has a 4.8 star rating with excellent customer reviews. It features SmartWash which is a cycle sensor that adjusts to give you the best wash, a fully integrated console, 1 hour wash option and more.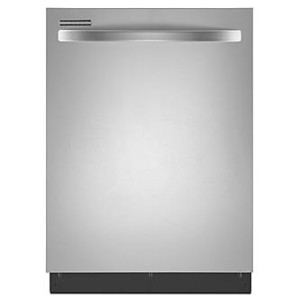 Kenmore 15113 24" Stainless Steel Built In Dishwasher
Another great choice is found in this Kenmore unit. It has a rating of 4.7 stars and is a popular choice when it comes to price as it is under $400. This model offers multiple cycles that really leave your dishes clean and sparkling. There is also a sanitize rinse with high temperature that eliminates 99.9% of bacteria. This is all done with pressurized spray nozzles that really dig in and clean your dishes.
Kenmore 13403 PowerWave Spray Arm Stainless Steel
This features all Kenmore brands and this is based on the overall ratings. This particular unit is another excellent choice if you have a budget of $700. What gets the job done is the PowerWave spray arm that really clean your dishes from every direction. This model also features TurboHeat Dry.
This will eliminate you from having to take the dishes out and dry them. All you have to do is set it up and this unit does all the work for you while you just sit back and relax.