If you are looking for a unit that produces great cleaning, rinsing and drying results, then check out the Kenmore Stainless Steel Tub Undercounter Dishwasher #2213693. Based on experts tests, this model leaves glasses spot and film free, which is more than a lot of others on the market. It is rated at 4.0 stars and it really worth your time to look at. It is very easy to use and the controls and dispenses are very intuitive. The reason that it was given 4 stars is because it does not have the flexible loading features that other machines have like cup shelves, folding tines for the top rack. However, it is still a good machine. There is a time remaining display that is indicated by a small LED. This LED turns from green blue to green when the cycle is complete. 

It is rated for average energy efficiency and a bit below average when it comes to capacity.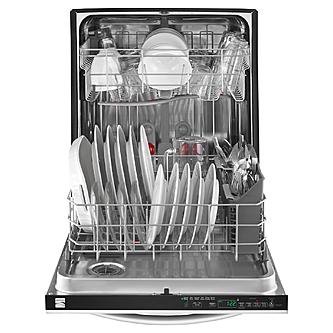 Quick Specs On The Kenmore Dishwasher #2213693
Rinse aid level viewing window
The filter is removable
hour express wash
The upper rack is adjustable
Plenty of room in the flatware basket
There is a sanitary rinse
Designed with jets that are targeted for hard to clean items
It is well priced
Overall, this machine has a manufactures warranty of 1 year labor and parts and the electrical usage is 270 kWh a year.